Pirate Lab/Meeting/25 01 2020
Pirate Lab January 2020
About this meeting
Meetings are open to everyone! You don't need to be a member to come here!
Pirate Labs can be seen as incubators for pirate projects. This is the perfect place for people to propose their ideas and to launch new projects.
If you have any ideas of projects, or want to help other projects, please do come!
We will use the meeting guidelines proposed by the internal democracy group. Please have a look at them before coming to the lab :)
Languages: English, français, nederlands
To-do list
Define venue
Confirm venue
Create facebook event (then destroy facebook)
Preparation
Lab starts at 2 pm. For those who want to lunch together before the lab, they can coordinate on the following pad:
https://pad.parley.be/p/Piratelab2020-January
Suggestions for the agenda happen on this pad. We strongly advise you to read the pad before coming to this lab!
Reporting
Pirate Lab Sat 25 January 2020
Wikipage: https://wiki.pirateparty.be/Pirate\_Lab/Meeting/25\_01\_2020 Guidelines: https://wiki.pirateparty.be/Internal\_Democracy/Guidelines
Attendees
Renaud
Ilja
Fred
J-F
Eve
HgO
Patrick
Suggestions
Talk about/start/continue https://www.loomio.org/d/129tiyIH/working-group-decision-making
If still relevant; work on the article at https://pad.parley.be/p/wvl-privacy (practical guide for allowing people to have more digital privacy)
Are we doing something about the finger prints in the new eid cards ? the first one have been issued last tuesday in Lokeren. These new cards are made available in spite of the negative report from the Data Privacy Commision. https://pad.parley.be/p/beidcard-with-fingerprints
Structure first page of website,
Continue discussion on values and define priorities among them, and start talking about political stratégy and prioritise them aswell: I will come with a summary mindmap of what we discussed last time
Think about the idea to cover the drinks and transportation costs with the money of the party?
Mastodon guidelines : https://mastodon.pirateparty.be/about/more

When we released them, we said it was still a beta. I'd like to review them to see what should be improved, and what is still missing.

Which tools should we propose on parley ?
If it's related, move finance.partipirate.be to the parley server, in order to have this wiki hosted by the Pirate Party instead of Patrick (we would keep the domain of course)
Roundtable
Lab starts at 14:00 Roundtable where everyone says how they feel, what they want to discuss today (expectations and wishes), and when they will leave
Ilja : decision-making process ; article about privacy ; 5pm
ZeFredz (and Coco) : publish something finger prints on eID card ; 5pm
HgO : mastodon guidelines are still in beta, what about it now? : which tools on parley.be? ; moving finance.partipirate.be to parley? ; never leaves
Renaud : decision-making process; fingerprints; Mastodon guidelines; leave 5pm
Patrick: finance IT ; sponsor travels to come to labs ; decision making process ; 5pm
Eve : fingerprints ; decision-making process ; 5pm
Subgroups
Sleeping subgroup
After having experienced sleeping, Ilja concluded that we work too much and need to rest more often
Decision-making
A discussion thread was opened on Loomio before this Lab : https://www.loomio.org/d/129tiyIH/working-group-decision-making
Participated in this workgroup : Renaud, Ilja, JF joined later
It's important that we keep things simple

Otherwise no one will know how/what to do
and nobody will actually follow whatever 'rules' we invent.

We see 3 elements for now:

Principles

e.g. 'process needs to be open'

Tools

e.g. Loomio, Meetings (with guidlelines)

Roles

e.g. Like the role of a captain in a crew (in Liège, a captain proposes a decision-making process for decisions to be taken)
don't need to be appointed, can be volunteers
We start with the Principles because that is the basis of the whole thing. We created a mindmap around "Decisions". We'll let this rest for now and allow for feedback.
The mindmap: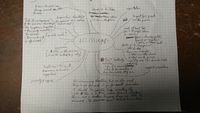 Next meeting for that group?
Going for a walk (Ilja, Renaud, J-F)
Informal moment
2 of them came back
Covering the drinks and transportation costs with the money of the party
There was some discussions in the past on a similar topic : https://www.loomio.org/d/xblsDjTK/guidelines-for-how-to-spend-ppbe-s-money
Proposal : We propose a refund of transportation and drinks for the people attending a Pirate Lab or meetings organized by the Pirate Party.
If there is less than 1.000€ left on the bank account, we don't do spending, so we can pay the servers and have a little bit money if necessary
Payment is done on basis of a bill and the event name
Refund is only made for public transports and for the 1st drink. Attendees should try to have a single bill for the drinks.
This proposal will be on loomio, and if there isn't any objection, it will take effect starting from next Pirate Lab
Fingerprints and eID card
Participated in this workgroup : Patrick, HgO , Eve, Fred
2018 : first proposal to implement fingerprints on eID, although Commission Vie Privée gave a negative opinion
14th Jan 2020 : first eID with fingerprints are made on a test city
Knowing that there was a major data leaks some months ago (ref ? see pad below)
Proposal : prepare an article for the next lab https://pad.parley.be/p/beidcard-with-fingerprints
Renaud will create a topic on loomio related to the article ! Thank you Renaud.
post-meeting addendum : the topic has been created on Loomio : https://www.loomio.org/d/zDNxLXEU/-post-new-eid-card-with-fingerprints Thank you so much Renaud
Define Next Lab
When and where will the next lab take place? 29th February ? Do not miss it, the next lab on a Saturday this date will be in 28 years !!!! http://villemin.gerard.free.fr/aScience/Unites/Temps/Mois.htm
Next Pirate Lab
When & where will the next Lab take place?